Using text items
Text items allow you to store any information as text. For example, you can store:
Passwords for instant messengers like Skype or ICQ
Product keys for your software
PIN and PUK codes of your SIM card
Password for your home WiFi network access
and any other information, which you find appropriate to save
The following picture shows the text item editor.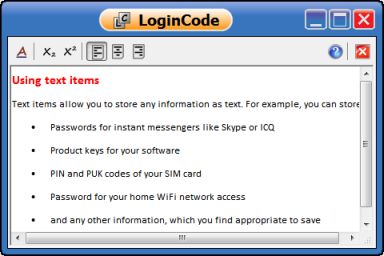 Text items are stored in RTF format. Therefore you can choose font, color of text, paste html documents etc.
Text editor commands
When you open the text item, several commands appear in place of main menu. These commands include:
Font

Allows you to choose a font and text color for currently selected text.

Subscript

Allows to type in subscript (for example H2O ).

Superscript

Allows to type in superscript (for example E=mc2 ).

Align to the left

Center

Align to the right

These options allow you to align horizontally selected text.