When importing the CSV file, you will be asked to adjust the parameters of the imported file.
The Data Import Wizard detects the file parameters and initially selects them. It may happen however that the detected parameters are incorrect. Therefore we strongly recommend that you carefully review the parameters selected by wizard.
The CSV file parameters include: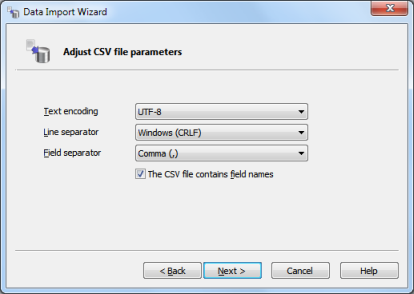 In the next step, the Data Import Wizard displays the contents of the imported CSV file (see the image below).
We strongly recommend that you ensure that the CSV is displayed correctly. If it is not, please go back to the previous step (CSV file parameters) and correct the parameters of the file.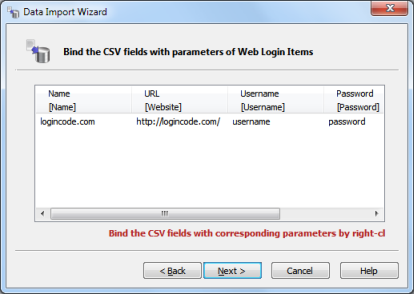 When you review the file contents, bind the CSV fields with item parameters. In other words, specify which CSV fields should be taken into account and what is their meaning. The parameters of items which are imported include item name, login page address, username, user password and item notes.
To bind the field, right-click its column header and choose appropriate item parameter from the context menu. You can also remove the relationship by choosing Unbind command.
When you complete the binding, press Next. You will be moved to the verification step (see the image below). Please, ensure that the presented information is displayed according to your expectations.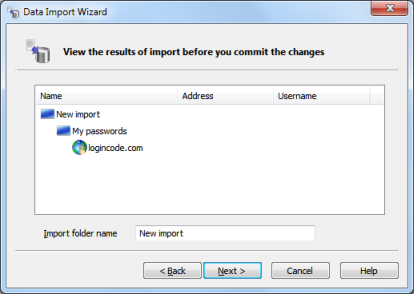 When you review the imported data, you can change the name of folder which will contain all imported items. To do it, enter the name in Import folder name textbox. To continue, press Next.
In the last step, the Data Import Wizard will notify you that it has collected all the necessary information and is ready to import the data. Press Finish to close the wizard and commit the import.