Using Password Builder
Password Builder is a powerful utility which allows you to create random passwords of length up to 250 characters taken from a full Unicode character set. Such a long passwords are unbreakable in practise by brute force methods. Assuming maximum allowed settings (about 46000 various characters, password length set to 250), the number of possible combinations reaches ~4,89*101165. Such a number successfully eliminates the sense of using brute force methods. The dictionary methods also can not be aplied since generated passwords consist of randomly selected characters.
The Password Builder window is shown on the image below.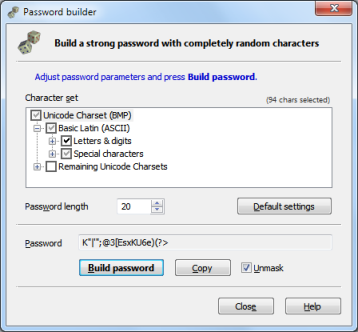 The Character set list shows you the hierarchy of Unicode subsets which you can freely check or uncheck. The Password Builder will use only those characters which belong to the checked subsets.
Beneath the character set list there is the Password length text box which allows you to control the length of generated password.
The Default settings button allows you to revert Password Builder settings to their initial state.
When you complete the customization of settings, click Build password button. The Password Builder will create the password and put it into the text box labeled Password. You can then copy the password to the system clipboard using Copy button or see its contents using Unmask checkbox.